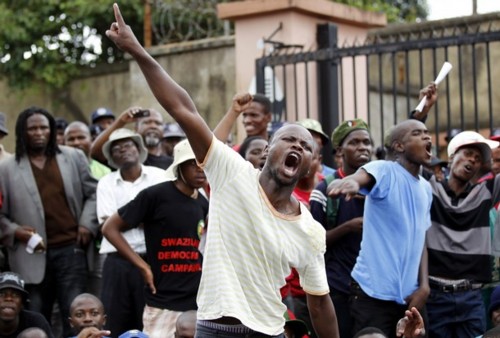 Just a day after revolutionary forces overthrew the former president of Ivory Coast,  Swazi police crush a peaceful pro-democracy protest in Mbabane.
Slowly but surely, the Arab spring appears to be blossoming into a worldwide popular revolt against political oppression, economic hardship and social injustice. However, as revolutions go, they tend to be violent and ugly, and Swaziland — the last remaining absolute monarchy in Africa — is no different.
Today, Swazi police used force to quell a popular rally by unions and pro-democracy protesters who agitated against public sector budget cuts and for a transition to constitutional democracy. Over 1,000 people came out to dance and chant, but King Mswati III would have none of it. His forces beat up, hosed down and fired through the crowds, arresting dozens of union leaders, activists and journalists.
In February, the South African newspaper Mail & Guardian already reported how Swaziland's economic crisis could trigger an angry popular uprising, arguing that "economic meltdown may be just the fuse Swaziland needs … Economic breakdown may be what finally forces Africa's last absolute monarchy to open the door to democratic rule."
Read the full story in the Guardian.