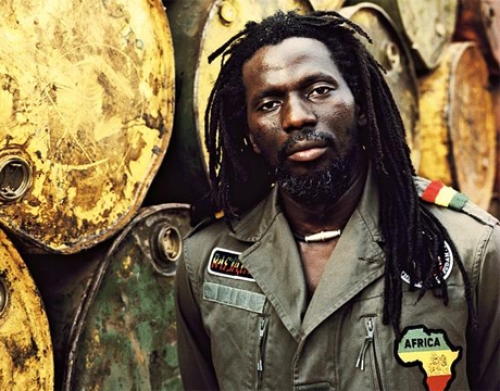 With the overthrow of former president Gbagbo, the Ivorian reggae star Tiken Jah Fakoly finally gets his African Revolution.
In the wondrous world of reggae music, Tiken Jah Fakoly is nothing short of a global icon. What's more, as a devout proponent of democratization and a fearless political activist, Tiken Jah Fakoly has been chanting for African unification and a youth-led revolution for years.
His lyrics, speaking of corruption, colonization, globalization, injustice and poverty, have made him a persona non-grata in at least one African country (Senegal), while he has been pursued, threatened, banned and exiled from his own country in the past.
Today, Tiken Jah Fakoly is increasingly being referred to as a Francophone reincarnation of the greatest reggae legend of all time, Bob Marley. His music, uplifting and inspiring, has made him the voice of the oppressed in West Africa and beyond, and a pain in the back to politicians throughout the region.
Last year, Tiken Jah Fakoly criticized Laurent Gbagbo — who was Ivory Coast's president for the past 10 years but lost last November's elections to his rival, Alessane Ouattara — and called on Gbagbo to prevent bloodshed and step down.
In an interview earlier this month, Tiken Jah shared his hopes that Ouattara's rebel troops would successfully complete the revolution, overthrow Gbagbo and re-unite the country, which had been practically partitioned in a northern and a southern region since the First Ivorian Civil War of 2002-2004.
His 2010 album, appropriately called African Revolution, foreshadowed some of the historic developments in his country. Today, it appears, Tiken Jah Fakoly might finally be getting just that — an African Revolution.
Below are two of his songs: first, the title song from Tiken Jah's new 2010 album, which foresaw the Ivorian Revolution, and second one of his most famous songs, Mon Pays Va Mal ("my country is doing bad"), which more or less foresaw the civil war and forced Tiken Jah to go into exile.
Lyrics of Tiken Jah Fakoly – African Revolution:
We want revolution
Young people revolution
Intelligent revolution
Must be African education
We want revolution
Young people revolution
Intelligent revolution
Must be black people revolution
Go to school brother
And learn what they are doing
It will open up your eyes
To the people's situation
Go to school my brother
I said go to school my brother
You will understand very soon
All the problems of your nation
We want revolution
Young people revolution
Intelligent revolution
Must be African education
In your mind brother
There is the power to change your world
This understanding
Will help to make a better place
And in your hands brother
There is the key to this continent
And if you don't unlock it soon
It will be lost to the government
African revolution must be black people redemption
Lyrics of Tiken Jah Fakoly – Mon Pays Va  Mal:
Le pays va mal
Mon pays va mal
Mon pays va mal
De mal en mal
Mon pays va mal
Avant on ne parlait pas de nordistes ni de sudistes
Mais aujourd'hui tout est gâté
L'armée est divisée
Les étudiants sont divisés
La société est divisée
Même nos mères au marché sont divisées
[au Refrain]
Avant on ne parlait pas de chrétiens ni de musulmans
Mais aujourd'hui ils ont tout gâté
L'armée est divisée
Les étudiants sont divisés
La société est divisée
Même nos mères au marché sont divisées
[au Refrain]
Nous manquons de remèdes
Contre l'injustice, le tribalisme, la xénophobie
Après l'ivoirité
Ils ont créé les ou les é o les é
[au Refrain]
Djamana gnagamou'na
Obafé kan'gnan djamana gnagamou he
Djamana gnagami'na lou ho
Obafé kan'gnan djamana gnagamou
Magô mi ba'fé kagnan djamana gnagamou
Allah ma'ho kili tchi'la
Djamana gnagamou'la lou ho
Djamana gnagamou'la
[au Refrain]
Translation:
The country is doing bad
My country is doing bad
My country is doing bad
Worse and worse
My country is doing bad
Before there was no mention of northerners or southerners
But now everything is spoiled
The army is divided
Students are divided
Society is divided
Even our mothers at the market are divided
[To the chorus]
Before there was no mention of Christians or Muslims
But now they have ruined everything
The army is divided
Students are divided
Society is divided
Even our mothers at the market are divided
[To the chorus]
We lack a remedy
Against injustice, tribalism, xenophobia
After Ivority
They created the ou, the é, o, é (?)
[To the chorus]
Djaman gnagamou'na
Obafé kan'gnan Djaman gnagamou ET
Djaman gnagami'na lou ho
Obafé kan'gnan Djaman gnagamou
Mago mi ba'fé kagnan Djaman gnagamou
Allah ma'ho kili tchi'la
Djaman gnagamou'la lou ho
Djaman gnagamou'la
[To the chorus]
Translation note:
The country is in disarray
They want to create havoc for us
May all those who want the loss of our homeland
Be punished by God
Confusion reigns
It's a general stampede