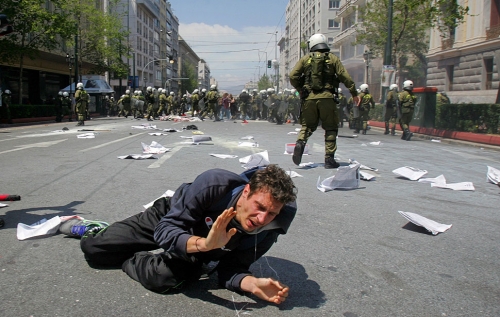 "After a year of austerity, we Greeks have seen our country and our lives changed beyond recognition."
The Guardian just published a powerful op-ed by Hara Kouki, a Greek historian and doctoral student at Birkbeck College, currently living and doing research in Athens. Her article is a harrowing reminder of the unfolding human tragedy in Greece, as well as the neoliberal mythology behind the draconian austerity measures and the increasing risk of a 2008-style youth uprising.
Here's an excerpt:
A year after the International Monetary Fund and the European Union imposed their now infamous austerity memorandum on Greece, life here has changed radically. If you are between 18 and 24 years old, the chances are that you are unemployed, like 40% of your generation. If you are in your 30s and do have a job, it is likely to be part-time and flexible; you probably cannot imagine it being secure, and you have no idea how much longer it is going to last. Your wages are gradually getting lower, you cannot go on strike, you cannot organise collectively, you cannot even demand to get paid. Holidays are out of the question, getting sick is too much of a risk, and you cannot afford a flat of your own.

Young people in Greece can no longer make ordinary life choices: they cannot plan for the present, let alone for the future. But they are told – and many of them feel – that they can't complain. They belong, after all, to a doomed generation.

Many ordinary Greeks have stopped watching the news or thinking about why all this is happening. But everybody talks with one another about what is going on: friends, children and parents, shopkeepers, taxi drivers, teachers – everyone says this austerity is unfair and unjust, but everyone also feels insecure and fearful, there is nothing we can do about it, after all. This new reality feels as if it has been cast upon us – almost like a supernatural phenomenon. We are told that we bear the blame of the crisis because "we all partied and spent beyond our means" – but those suffering the most know we had nothing to do with it.
Read the full article in the Guardian.