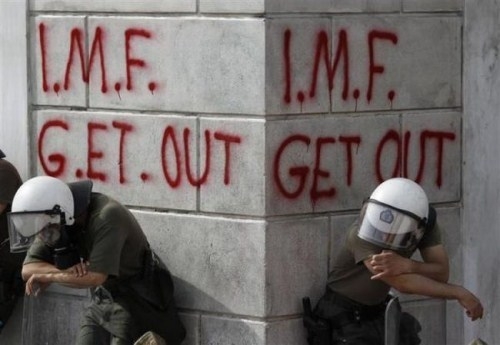 Apparently sodomizing Greece wasn't enough for the IMF chief, who was just hauled off a plane in New York after an alleged sexual assault on a hotel maid.

UPDATE: just published some reflections on DSK here!
Sometimes, the irony of a situation is just so overwhelming that it's difficult to put into words just how insane the situation actually is. Tonight is one of those moments.
Dominique Strauss-Kahn (wiki), who as head of the International Monetary Fund specializes in sodomizing poor countries in financial distress, has apparently gotten just a wee bit too used to sticking his weener up places it don't belong (in particular working people).
Just a few hours ago, three officers of the New York port authority hauled Strauss-Kahn (who has been tipped as the leading contender for the so-called 'socialist' party in the 2012 French presidential elections) off his Paris-bound airplane, just 10 minutes prior to its scheduled departure. The officers subsequently arrested him on charges of sexual assault.
Strauss-Kahn is accused of walking up to a hotel maid naked and forcing her to have oral sex with him. It is the type of power trip one would associate either with a psychopath or with a deluded politician who has gotten so used to ordering people around that the last remaining semblance of respect for human dignity has evaporated altogether.
Clearly, respect for human dignity never ranked very high on the list of personal qualities an IMF chief is supposed to possess, but one would at least expect an economic hitman like DSK to limit his rapacious behavior to the financial markets. After all, raping Greek workers and starving Malawian children is still considered legal — sexually assaulting a hotel maid is clearly not.
Anyway, the New York Post broke the story tonight, but it has already been confirmed by the New York Times. While Le Monde, the center-left newspaper that has backed Strauss-Kahn's possible presidential candidacy, remains conspicuously silent, the left-wing Liberation at least did its journalistic duties.
Well, I don't really know what else to say about this overwhelmingly ironic situation, but at least it seems that the famous popular outcry – IMF GET OUT! – which has over the years resounded from the streets of Buenos Aires to Bangkok and from Ankara to Athens, just took on a whole new meaning in a New York hotel room.
Naughty, naughty IMF.