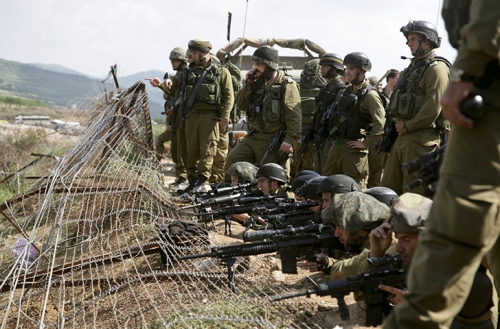 On a bloody Nakba day yesterday, Israeli forces killed 15 and wounded scores as thousands of pro-Palestinian protesters descended upon checkpoints and borders.
Israel likes to think of itself as the only democracy in the region, but to truly qualify as such it's going to have to do a lot better. Apparently overwhelmed by thousands of protesters descending upon its military checkpoints and borders for Nakba day, IDF troops yesterday responded Mubarak-style, with heavy-handed and lethally violent repression tactics.
When thousands of Syrian and Palestinian protesters began to climb over border fences , Israeli soldiers fired into the crowds, killing at least 15 and wounding dozens more. According to prime minister Benjamin Netanyahu, the protests were a threat to Israel's "right to exist", as he pledged to "use restraint" while defending the country's borders.
The Syrian army had previously allowed the thousands of protesters to cross the Syrian side of the border, probably in an attempt to divert attention away from the country's own internal unrest. Syria yesterday continued its brutal repression of peaceful protesters, forcing hundreds to flee into Lebanon.
Wael Ghonim, Egypt's celebrated Google revolutionary who has become somewhat of a posterboy for the 'Arab democracy' that Netanyahu still considers to be impossible, yesterday tweeted his support for the Nakba protesters:
World must stop its blind support to #Israel Gov settlements policy. Foreign policies must be based on values & not just interests #Nakba

More than 4.5m refuges from #Palestine living under inhumane conditions in camps. 60% of them are in #Lebanon #Syria & #Jordan .. #Nakba
A good Israeli friend of mine sent me the following clip. While the footage is not from Nakba day (it was uploaded two days earlier), it does give an impression of the often hard-handed and brutal response to peaceful popular protest in Israel:
The following video (obtained from this website, worth checking out) shows Israeli activists in an anti-Nakba law protest. The Nakba law forbids Israelis to mourn the creation of the state of Israel.
Finally, also worth reading is this article in Time Magazine, on Palestinian protesters embracing the "Arab spring model for confronting Israel."