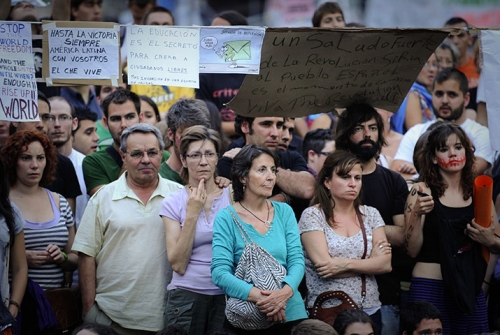 We are ordinary people. We are like you: people, who get up every morning to study, work or find a job, people who have family and friends.
Originally published at Democracia Real YA
We are ordinary people. We are like you: people, who get up every morning to study, work or find a job, people who have family and friends.People, who work hard every day to provide a better future for those around us.
Some of us consider ourselves progressive, others conservative. Some of us are believers, some not. Some of us have clearly defined ideologies, others are apolitical, but we are all concerned and angry about the political, economic, and social outlook which we see around us: corruption among politicians, businessmen, bankers, leaving us helpless, without a voice.
This situation has become normal, a daily suffering, without hope. But if we join forces, we can change it. It's time to change things, time to build a better society together. Therefore, we strongly argue that:
The priorities of any advanced society must be equality, progress, solidarity, freedom of culture, sustainability and development, welfare and people's happiness.
These are inalienable truths that we should abide by in our society: the right to housing, employment, culture, health, education, political participation, free personal development, and consumer rights for a healthy and happy life.
The current status of our government and economic system does not take care of these rights, and in many ways is an obstacle to human progress.
Democracy belongs to the people (demos = people, krátos = government) which means that government is made of every one of us. However, in Spain most of the political class does not even listen to us. Politicians should be bringing our voice to the institutions, facilitating the political participation of citizens through direct channels that provide the greatest benefit to the wider society, not to get rich and prosper at our expense, attending only to the dictatorship of major economic powers and holding them in power through a bipartidism headed by the immovable acronym PP & PSOE.
Lust for power and its accumulation in only a few; create inequality, tension and injustice, which leads to violence, which we reject. The obsolete and unnatural economic model fuels the social machinery in a growing spiral that consumes itself by enriching a few and sends into poverty the rest. Until the collapse.
The will and purpose of the current system is the accumulation of money, not regarding efficiency and the welfare of society. Wasting resources, destroying the planet, creating unemployment and unhappy consumers.
Citizens are the gears of a machine designed to enrich a minority which does not regard our needs. We are anonymous, but without us none of this would exist, because we move the world.
If as a society we learn to not trust our future to an abstract economy, which never returns benefits for the most, we can eliminate the abuse that we are all suffering.
We need an ethical revolution. Instead of placing money above human beings, we shall put it back to our service. We are people, not products. I am not a product of what I buy, why I buy and who I buy from.
For all of the above, I am outraged.
I think I can change it.
I think I can help.
I know that together we can.I think I can help.
I know that together we can.
Propositions approved at May 20th 2011 Assembly at #acampadasol #spanishrevolution
- TRANSLATION-
MADRID, May 20th 2011.
As a result of the agreement reached during the assembly of the 20th May 2011 in ACAMPADA SOL (Sol Square occupation) and as a result of the recopilation and synthesis of the various propositions received during past days, a list of proposals was elaborated. We point out that the Assembly is an open and collaborative process. This list must not be understood as finished.
Propositions approved at today's assembly (May 20th 2011):
1. Reform of the Electoral Law. We demand open lists with unique circumscription. The number of acquired seats must be proportional to the number of votes.
2. Enforcement of basic and fundamental rights expressed in the Spanish Constitution, such as: – The right to decent housing, achieved by a reform in mortgage law. – So that handing over the house implicates the cancelling of the debt. – Free and universal public health system.
3. Abolition of discriminatory  laws, such as the European Space for Higher Education, the Immigration Law and the Sinde Law.
4. Fiscal reform to favor equality, a tax reform actually based on income and inheritance. We also demand the implementation of Tobin Taxes, which take into account international financial transfers and the suppression of fiscal paradises.
5. Reform of the labor conditions of the political class, to abolish, for example,  life salaries.
6.  Transparency and political lists free from corruption must be mandatory by Electoral Law.
7. Plural action regarding banks and financial markets, obeying 128th article of Constitution, which determines that all the country´s wealth, in its various forms and ways of ownership, is subjected to general interest. Control of the IMF and European Central Bank's power and influence. Immediate nationalization of those banking entities which were rescued by the State. Enduring control over financial entities and operations so abuses, in their various forms,  are abolished.
8. Real detachment  between the Church and the State, as stressed in the 16th article of the Constitution.
9.  Participative and direct democracy, active citizenship must be encouraged institutionally.  Popular access to media must be ethical and truthful.
10. True regularization of labor conditions with accurate enforcement by the powers of the State.
11.  Closing of all nuclear energy plants and promotion of renewable and free energy.
12. Recovery of public enterprises which were privatized.
13. Effective separation between executive, legislative and judicial powers.
14. Reduction of military expenses, immediate closing of weapon factories and a more effective control of state security forces. As a peaceful movement we believe in an end to wars.
15. Recovery of Historical Memory and the founding principles of the fight for democracy in our state.
16. Transparency of political parties accounts and financing as a way of stopping corruption.