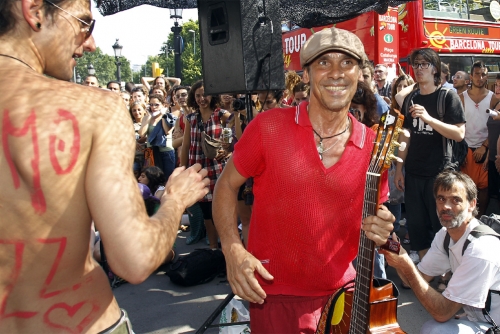 Manu Chao gave a surprise solidarity concert at the Plaça de Catalunya in Barcelona to support the indignados of the 15-M movement.
Sometimes, hope is all you have. Hope of a better a world, a better future. As Sartre famously said in his last interview, just three weeks before his death, "hope has always been one of the dominant forces of revolutions and insurrections, and I still retain hope as my design for the future."
For the indignados of Barcelona, hope is what brought them to the Plaça de Catalunya, to set up a permanent protest camp there, and to defy a violent police force that tried to forcefully remove them. Hope for a better world has also been one of the red lines running through the musical work of the Barcelona-based artist Manu Chao.
So it was no surprise to see Manu showing up at the Plaça de Catalunya last week to show his solidarity to the 15-M protest movement by giving a free surprise concert in the square. Someone was kind enough to record the performance on their camera or phone and upload it on YouTube, for all of us to enjoy this live version of Zapato Viejo:
Those who are familiar with him know that Manu Chao has long been socially engaged and involved with political activism, particularly the alterglobalization movement. He famously gave a free concert in Genoa ahead of the legendary anti-G8 protests there, which left one protester dead and hundreds injured.
During the 1990s, Manu also became a noted supporter of the Zapatista movement in Chiapas, Mexico. He famously included speeches from the revolutionary Subcomandante Marcos in his songs.
Manu has been called a new Bob Marley from Barcelona, but he would strongly disagree with the comparison himself. Either way, his songs reflect a similar longing for a better world and an appreciation of the poor people at the grassroots — whether in Kingston or in Barcelona.
Interesting factoid: the album title, Próxima Estación: Esperanza, was taken from a sample that recurs throughout Manu's music and that was recorded from the metro in Madrid. For all those protesters currently on Puerta del Sol, keep hope! Don't leave!