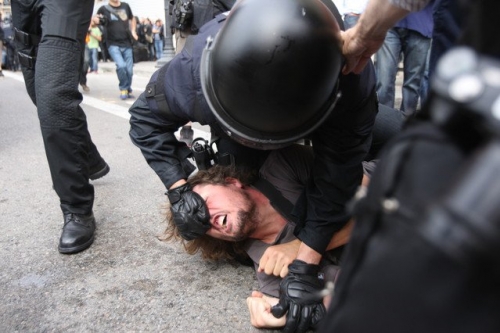 Police just cleared the protest camp on the Plaça de Catalunya in Barcelona, firing rubber bullets at protesters and hitting indiscriminately (videos here!).
NOTE: I just published another article: Why the police violence in Barcelona was a big mistake.
Information is still sketchy (if you're in Barcelona, please give us an update!) but it appears that riot police have just cleared the peaceful protest camp at Plaça de Catalunya in Barcelona with force.
At least 43 are reported to have been treated for injuries, although actual numbers are likely to be higher.
Video footage shows police beating away indiscriminately at protesters sitting on the ground. Reports say police even fired rubber bullets to disperse a small group of protesters that peacefully resisted eviction.
The Barcelona camp has been the second biggest in Spain, after the Puerta del Sol in Madrid, and had been occupied ever since the national protests on May 15th. Just yesterday, we shared a short documentary that showed the good-natured spirits of the peaceful protest camp.
Check out the videos below (NOTE: one of the most shocking videos cannot be embedded, but can be seen here):
Desalojo Policial plaza cataluña barcelona A3 from Comando Pollo on Vimeo.
We'll post more updates as we get them. There's some coverage here, and (in Spanish) here,  here and here. Some of the best pictures of the violent crackdown are here.