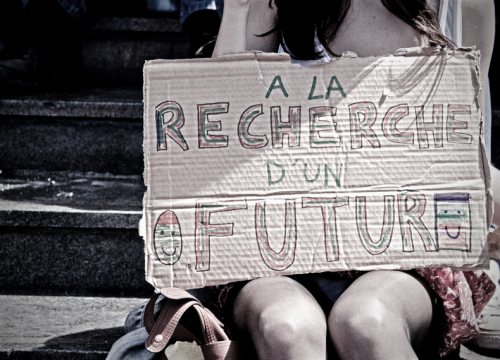 From Athens to Paris, tens of thousands of Europeans heed the online call for a #europeanrevolution.
An online call for a European Revolution was heeded en masse today as over 100 cities throughout the continent witnessed tens (if not hundreds) of thousands 'indignants' mobilizing to demand real democracy now.
Thousands gathered in Madrid for a peaceful assembly on the 15th straight day of protests and occupations there, belying the false idea of skeptics that the Spanish protest movement would fizzle out in due course.
At the same time, the people of Greece took to the street for the fifth consecutive day, eclipsing previous protests with "tens of thousands" of people in Syntagma square alone (see live stream).
The protests also spread to Paris, where over 5,000 protesters took the Bastille earlier, putting up a Madrid-style tent camp before being forcefully removed by riot police. Authorities in France are understandably getting anxious.
Also in London hundreds of people assembled on Trafalgar Square to show solidarity with the Spanish.
Same in Berlin:
And Lisbon:
And Prague:
Throughout Europe, people are outraged at a lack of economic opportunity, social justice and political representation. An already bleak outlook for many in Europe — especially those in the South — has been worsened recently by austerity measures that have only further aggravated the recession and unemployment rates.
Information on today's Europe-wide protests is still vague and sketchy but I'll keep updating this article with news, pictures and videos as more information comes in. Please suggest your own stories and share your own links!