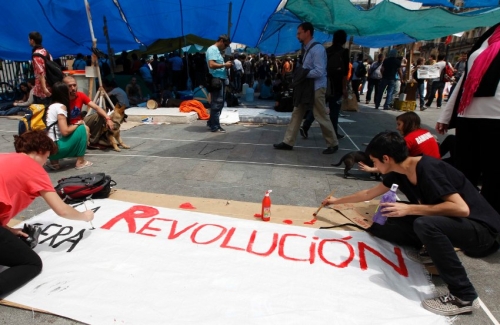 "Unprecedented demonstrations in 60 cities across the country have put even more pressure on a political establishment in crisis. But just what can be done now?"
Long overdue, but some of the mainstream media finally appear to be picking up on the unfolding events in Spain. It's truly incredible to see how under-reported this issue has been so far, especially given the sheer scale of the protests.
As usual, we'll probably have to wait until violence breaks out for the world's newspapers to finally splash the images onto their front pages (although props to the Washington Post for staying ahead of the curve).
Until then, don't count on newspapers, magazines and TV stations to bring you the truth — go and find out yourself, on Facebook, Twitter and the blogosphere. Subscribe to this blog if you're interested in receiving daily updates.
I'll probably run my own reflections on how the old media are proving to be a major obstacle to change in our late capitalist democracy, but until then, enjoy TIME's extremely boring interpretation of the Spanish revolution (for a more exciting overview check out this incredible article I just translated from Spanish):
Two political earthquakes have shaken Spanish life in the past week. First were the massive sit-ins that had tens of thousands of citizens camping out in the public squares of major cities in protest of the country's capsized economy and unresponsive political class. The second came Sunday night, May 22, when voters in regional and municipal elections delivered a sound drubbing to the governing Socialist Party (PSOE). Now, in Monday's harsh light, no one seems sure whether the first phenomenon had anything to do with the second. And everyone is wondering what both mean for the future of Spain.

Since May 15, tens of thousands of Spaniards have taken over squares in 60 cities, clamoring for political, economic and social reform. As articulated by the group Real Democracy Now, which helped organize the protests, unemployment (21.3% among the general population; a shocking 40% among youth) is high on the list of complaints. But so too are political corruption (more than 100 candidates in Sunday's elections are currently under judicial investigation), social-welfare cuts and a general sense that elected officials in both of the two main political parties aren't listening to them. "This isn't solely about unemployment or the upcoming election," says Raúl, 29, who works for a marketing agency when he isn't volunteering in Madrid's Puerta del Sol. "We're after a more responsible society."
Read the full article in TIME Magazine.