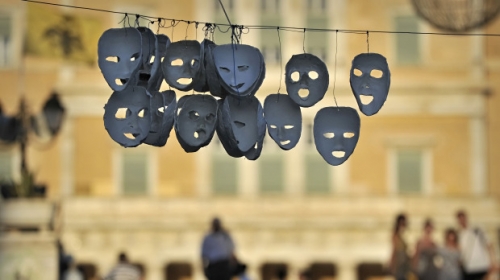 In his joyful struggle for survival, Kanenas, a Greek nobody at Syntagma, finds himself in a metamorphosis from ignorant to indignant.
By Kanenas, another humble and anonymous nobody at Syntagma
- "So which way will it be? Gun or injection?"
- "Actually, I was thinking of surviving…"
- "Let me check. Oh this is not an option, I am afraid…"
I, the Greek voter, "Kanenas" (= nobody), woke up, in sweat. It might seem as an existentialist's lost script page but this is what I literally live these days.
"Would you prefer to go bankrupt now or at a more convenient for us later date?" the unknown voice keeps asking.
And I keep thinking:
For the past year, I have suffered greatly. The austerity measures were nothing in comparison with my strenuous self-education on several fields of knowledge. Economic theories, political philosophy for dummies, ethics, alternative growth models, resource based economy plans. From popular cartoons and documentaries, till hardback classics, the conclusion was inevitable: all I know is that I know nothing… (still! after 2500 years!)
I have even forgotten how it all started. Let me think… It was one day, oh damn that day,  that the "markets" out of "anxiety", stopped their flow of debt money towards Greece's inexistent, for the past 30 (!) years, real economy.
And at that time I received the news: I was to be punished in the hardest medievalist protestant way. I had to become a schizophrenic. A citizen-employee, willing to be fired while my nation-company was to go bankrupt, and all that for undefined theological, economical reasons.
And therefore my fellow European friend, Markus had to pay from his supposed "tax money" to save me. He groaned, I moaned and one year later it seems that he needs to pay more and I am far away from being saved, unless this is meant in post-mortem context…
"Where does all money go when it dies?"
Further processing, this time with logical and enlightenment-period methods, brought me to a dead end.
And this is how irrationality entered my inner self and poisoned me fatally. I started to change. My eyes grew brighter, my hair wilder, my voice stronger. I became an "indignant", shouting and gesticulating rudely towards the Parliament building. My second mutation was even more obscene. I found myself thinking about the word totems of our society: "democracy", "justice", "financial system", till my illness guided me down the drain to question even the existence of his holiness himself, with a capital C. CAPITALISM. But what most worried the troika doctors was the strangest symptom of it all: my unjustified joy, and lift of spirit.
It was me, Kanenas, the word Ulysses used as a name when he killed Polyphemous, man of great fame.
Kanenas, the most popular prime minister in recent gallops, was, in fact, me!
The revelation was instant and fatal. I had to take matters into my own hands, as clumsy as they may be. Despite the windy spaces (of years of propaganda, and consumption), inside my head I was still left, luckily, with my basic instinct: that of survival.
Kanenas the indignant