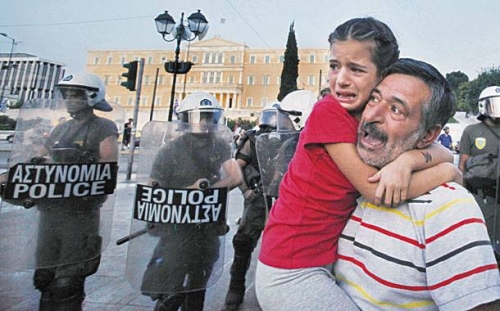 Following troubling signs that democratic freedoms in Greece are rapidly withering away, the beating of little Melina caused a national stir.
Originally published at Enet.gr, loosely translated via Google
"Dad, why did they hit me?" even she, the eight-year old Melina, wondered. "I do not understand why." Shortly after being hit by riot police, the camera lens captured the child in terror, perched in the arms of her father, and the photo, published on the headlines of "C" yesterday, caused a major controversy.
Following the reasonable questions of his daughter, her dad tried to explain … the inexplicable. Surely a gentleman would never strike a small child. "We came here to complain about some decisions made over there [in Parliament] and that each day reduce the amount of money that mom and dad get." Even though the peaceful protest at Syntagma last Sunday had not even started, the "gentlemen" in green attacked them without reason, and one of them, depicted above with the shield reading "Police", hit small Melina very hard.
Her father, Elias Vrettakos, may be the vice-president of ADEDY [the Civil Servants Confederation], but on Sunday he was not on Syntagma in his trade union capacity. "We came as a family." The reason for being needlessly attacked was "simply that we were there," complained a member of the "I'm not paying" movement, which organized the rally.
"The riot police wanted us to leave the street," says Mr. Vrettakos. "To throw us out. They came rushing in upon us. We shouted, swore and they began pushing us violently with their shields. They hit my daughter in the jaw with a shield. She began to cry. I took her in my arms and tried to leave. She was shaking all over. I squeezed her hard, but they did not let me. I was angry and my daughter scared." Shortly afterwards, as the little child calmed down, he saw a doctor friend who was there and who reassured him.
"Why such cruelty today against such a small child? Why such cruelty against so many people?" wondered Elias Vrettakos, this time demanding an explanation for the inexplicable himself. "They want to terrorize us. Not allow anyone to complain. To subdue us all. Such is the attempt to suppress opposition." Shortly after the blow from the forces of repression, his daughter asked him, "Dad, what happens when everyone hits the kids?" She is trying to find similar answers. Trying to explain how people, on this occasion, take out the worst of themselves.
"We struggled to improve our lives. I tell my daughter these stories every night. About the social protests, the rights we won, and that the House is the temple of democracy. But now everything is lopsided. The world has turned upside down, even though they are not old enough to be aware of these things. It is as if we live in the dark ages of dictatorship. They trample on you as they trample on freedom and democracy."
Please contact us if you have a better translation for this piece.