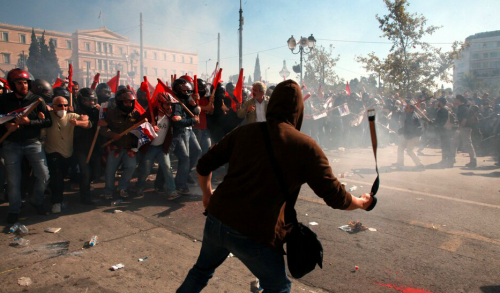 One man died after clashes broke out between anarchists, communists and riot police while Greek Parliament pushed through a key austerity vote.
Edit: according to hospital officials, the man who died was not hit by a stone. He did die from a heart attack, as we initially reported.
As Parliament prepared for a crucial vote on additional austerity measures — including the most drastic cuts and reforms so far —  renewed violence broke out on the streets of Athens. Without the vote, the Papandreou government would not have received the next installment of its EU/IMF bailout package and would have gone bankrupt next month.
In anticipation of the vote, a 48-hour strike brought the country to a complete standstill, while the single largest demonstration since the fall of the military junta sent hundreds of thousands of people into Syntagma Square and surrounding streets. For the first time, the communist party and union, KKE and PAME, joined the protests by blocking off Parliament so MPs would not be able to enter for the vote.
Carrying red flag sticks and wearing helmets, the unionists formed a human chain around Parliament. In the process, however, they ended up defending the state from the angry mob outside. Rather than turning their anger at the politicians, they protected them. Riot police were therefore happy to sit back and let the two sides fight each other. Dozens of people were injured in the clashes. One older man suffered a heart attack after being hit with a stone in the head. He died in hospital.
According to some rumors, police actually infiltrated the protests — either on the communist side or on the anarchist side, depending on whom you ask — to instigate the Leftist infighting. The truth, however, is that the Stalinist Left and the anti-authoritarian Left in Greece have a long history of antagonism. While this mutual distrust is understandable, the division itself remains a highly regrettable impediment to the creation of a united revolutionary front. Now, more than ever, we need to become and stay united.
Towards the end of the second video below, Stalinist union members can clearly be seen talking to police and telling them to attack anarchist protesters. There was a nauseating degree of collaboration between communists and police — a collaborative attempt to defend the last vestiges of the Greek state — that protesters were right to be angry about. But hurling stones and petrol bombs at fellow protesters? Following the death of three people in a bank arson last year and now the death of a communist union member, the time has come for the anarchists to revisit the use of escalating violence as a protest strategy.
For a massive photo gallery of the clashes, click here.