Austerity explained: a pocket guide to the EU crisis
By blaming the crisis on public spending, politicians' and bankers' only solution was to impose austerity. This has predictably worsened the debt crisis.
"We are punishing the innocent through austerity, and we are rewarding the guilty because the banks are continuing to receive huge privileges and subsidies from our governments. That is why we must defeat this austerity treaty, and all the measures that come with it unless we want Europe to be retrograded to, shall we say, the 19th century."

Susan George, President of the Board of the Transnational Institute, author of Whose Crisis, Whose Future?
Austerity measures have never worked, and have led growth to collapse across the EU. Greece witnessed its battered economy shrinking by 6.2% in the second quarter of 2012, and is forecast to enter its sixth straight year of recession in 2013. Austerity means less national income from taxation, reducing governments' capacity to pay back spiraling debts, leading to even higher debts.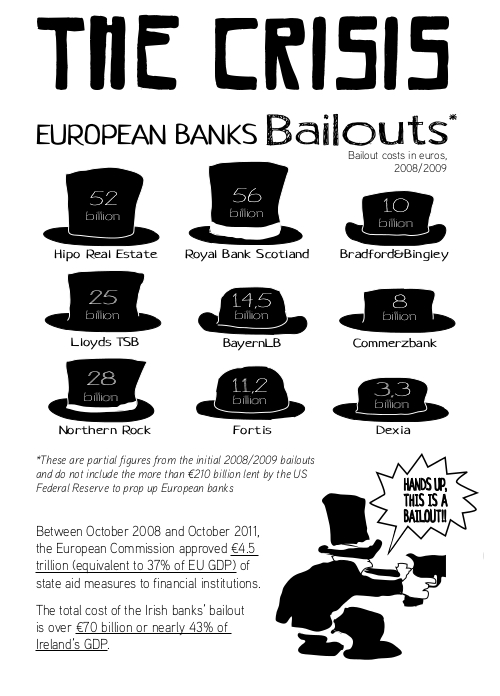 Even the International Monetary Fund (IMF) has warned against austerity measures during recessions, saying they will cost the UK an extra £76bn (€94bn) by 2015. Additionally, speculators have encouraged doubts about certain countries' abilities to pay, causing rates of interest to soar for countries like Greece and Portugal, making their debts completely unaffordable.
"If you diet when you are sick, it's quite probable you'll get a lot sicker so it's not a good idea." Nicoletta Batini, one of the authors of the IMF report, on austerity during recessions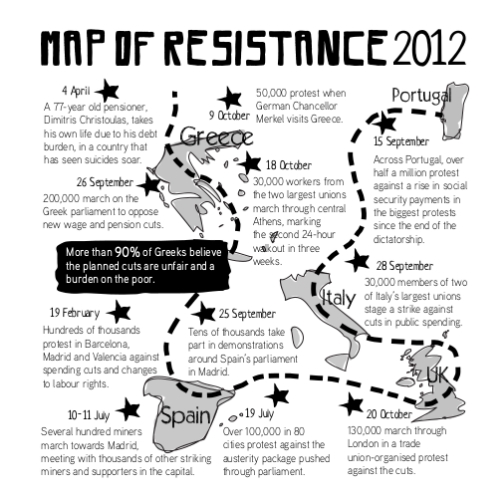 Download the full EU Crisis Pocket Guide via the Transnational Institute.
Source URL — https://roarmag.org/essays/transnational-institute-eu-crisis-pocket-guide/