Occupation of Wall Street makes waves around the world
As the worldwide wave of indignation finally washes upon America's shores, a few thousand activists in New York stage a protest that will inspire millions.
The Guardian, New York Times, Washington Post, Huffington Post, Wall Street Journal, Forbes, Business Insider, El Pais, Reuters, Bloomberg, CNN, NBC, ABC, Fox News, Al Jazeera, Russia Today — they've all written about it: the occupation of Wall Street by hundreds of "over-educated, under-employed and angry" protesters. The wave of indignation washing over the world this year has finally reached America's shores.
In just four short days, a few thousand protesters managed to achieve what the US political establishment has failed to do for the past four years: focus the attention of the media and the public on the disastrous role that Wall Street played in causing (and then profiting from) the ongoing global financial crisis — and the destructively corrosive effects that its enormous financial power has had on the state of democracy in the country.
On Saturday, answering a call-to-action by the Canada-based activist magazine Adbusters, five thousand outraged Americans swarmed onto Wall Street, with hundreds of them later setting camp in nearby Zuccotti Park (instantly renamed "Liberty Plaza"). Modelling themselves after the revolutionaries of Egypt and the indignados of Spain, the protesters vowed to peaceably occupy Wall Street for months, not leaving until their demands are met.
On the first night of the occupation, two thousand protesters attended an open-air popular assembly meant to help formulate these demands. The people's gathering, which was directly modeled after the Spanish asambleas that were born on Puerta del Sol on May 15 and that have since become a crucial organizing platform for mass protest movements in countries like Greece and Israel, released its first communique on Sunday.
In the statement, the protesters lamented corporate control over the US political system and called for "a revolution of the mind as well as the body politic." Instigating students, teachers, workers and the unemployed to join them, the occupiers also vowed "to grow, to organize [and] to raise consciousness." One participating student, Romeo C., 26, who was portrayed by the Guardian as "typical of the #occupywallst protesters", said that:
"We have a president who tells us to do the right thing, to go to school, to get a better life, but I'm not getting a better life. I am a new college graduate and I have $50,000 of college debt built up while studying business management at Berkeley. I can't find a job to pay it off … Look around us, Chase, Citigroup, Goldman Sachs — they got us in this position in the first place. The banks get a bailout but what about us? Where's our bailout? … A lot of my friends are here. We have good degrees, we have worked hard, but now what?
While some carried homemade cardboard banners, with slogans like "Wall Street is our street", "Corporations are psychopaths, my friend", and "One day the poor will have nothing to eat but the rich", others waved banners, beat drums, played guitar, danced, or simply sat and talked. According to Adbusters' Micah White and Kalle Lasn, in an op-ed in the Guardian:
#OCCUPYWALLSTREET was inspired by the people's assemblies of Spain and floated as a concept by a double-page poster in the 97th issue of Adbusters magazine, but it was spearheaded, orchestrated and accomplished by independent activists. It all started when Adbusters asked its network of culture jammers to flood into lower Manhattan, set up tents, kitchens and peaceful barricades and occupy Wall Street for a few months. The idea caught on immediately on social networks and unaffiliated activists seized the meme and built an open-source organising site. A few days later, a general assembly was held in New York City and 150 people showed up. These activists became the core organisers of the occupation. The mystique of Anonymous pushed the meme into the mainstream media. Their video communique endorsing the action garnered 100,000 views and a warning from the Department of Homeland Security addressed to the nation's bankers. When, in August, the indignados of Spain sent word that they would be holding a solidarity event in Madrid's financial district, activists in Milan, Valencia, London, Lisbon, Athens, San Francisco, Madison, Amsterdam, Los Angeles, Israel and beyond vowed to do the same.
US Day of Rage, an open-ended and autonomous platform that helped coordinate the occupation, released a statement on its website saying that "the institutions of government were designed to protect the principles of our democratic republic and to serve the will of citizens. Corporations, even those owned by foreign shareholders, use money to act as the voices of millions, while individual citizens, the legitimate voters, are silenced and demoralized by the farce." Its principle slogan, therefore, is "one person, one dollar, one vote."
"The elite corporate power have hijacked democracy," Alexander Penley, an international lawyer from New York, told Reuters in an interview. "The economic depression we are experiencing today has something to do with how Wall Street is run." Chris Priest, a representative from US Uncut, told The Nation that "Wall Street is the pinnacle of corporate greed that bankrupted the country, and is imposing severe cuts on the middle- and working-class. They've seen no consequence for the financial depression they caused."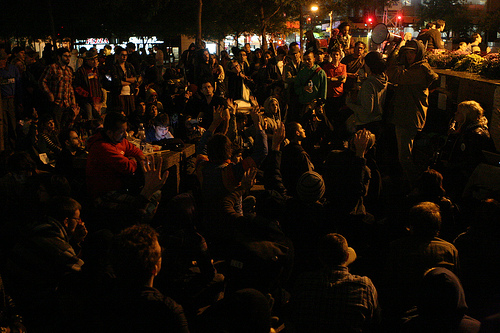 Barbara Ross, the press coordinator of Time's Up, told the Huffington Post that "corporations are too powerful in this country. They control the media and are more powerful than the politicians. This is a way to say that we want to have a voice again." One speaker at the popular assembly was quoted as saying that "corporations can kill us. They can steal from us. They can systematically take people out of their homes … I'm really sick of that."
But, as was to be expected, the protesters have so far met deaf ears on Wall Street. "The truth is I was only half paying attention to what they were saying," Ken Polcari, managing director of ICAP Equities, told Reuters. "It just seemed like it was people walking around with nasty signs up talking about the financial community, about Wall Street being the devil and all that," he said.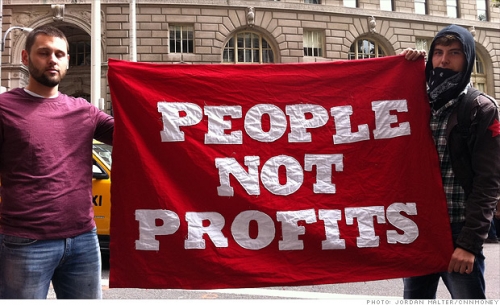 But the protesters might not just be the hippy-type idealists that their Wall Street counterparts would make them out to be. As Death & Taxes wrote, right as stock markets took a nosedive on Monday following fears about the implosion of the eurozone, "The numbers suggest that the Occupy Wall Street protesters are, in fact, the realists and that the bankers and investors are living in a hallucinatory wonderland — they can't save themselves, let alone the country's economy."
Given this fact, the occupation should be seen not as an isolated protest of a bunch of spoiled middle-class kids against an even more privileged class of bankers, but rather as the spectacular culmination of a remarkable year of popular resistance that started when a desperate young man lit himself on fire in Tunisia last December. With the occupation of Wall Street, the worldwide wave of indignation has finally washed upon America's shores.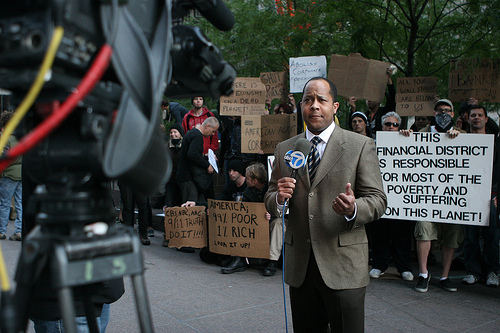 But what is perhaps the most significant element about the budding US protest movement so far is the sheer symbolic value of its action. As El País pointedly observed, "for millions of people affected by the global economic crisis, there exists a  place that symbolically represents the reason for all their troubles: Wall Street." Its occupation, whether by 300 or 300,000 protesters, by its mere existence, probably means more to those people than the protesters realize.
Meanwhile, Marisa Holmes, a New York documentary filmmaker and community organizer, told the Guardian that she was there for the foreseeable future. "We are the over-educated and under-employed. Our future has been totally sold out. Politicians have failed us and the square is somewhere where we can speak out. This is the beginning. It's direct democracy in action."
Source URL — https://roarmag.org/essays/wall-street-occupation-makes-waves-around-the-world/