Who is responsible for the violence in Venezuela?
While the international media focuses mostly on state repression, the deadly violence of the right-wing opposition goes almost entirely unmentioned.
Much of the debate surrounding the ongoing protests in Venezuela centers on the deadly violence that has gripped the country in the past two weeks. Who is responsible? According to our count, 11 people have lost their lives so far. The international media would have us believe that all are the result of police repression carried out in the name of the Socialist government. But while this is deplorably true in some cases, the situation is not as black-and-white as many make it out to be. More than half of the victims are government supporters or bystanders, and there is ample evidence that violent elements in the opposition were directly involved in most of these cases, including (#1) the gruesome decapitation of a motorcyclist who ran into barbed wire lined up at neck level by anti-government protesters. Those responsible were acting on a tweet from a retired general suggesting how to fend off "hordes of motorized criminals":
Para neutralizar hordas criminales motorizadas se deben atravesar cuerdas de nylon o ALAMBRE GALVANIZADO a 1:20mts altura en las boca calles

— Angel Vivas (@Gral_Vivas_P) February 20, 2014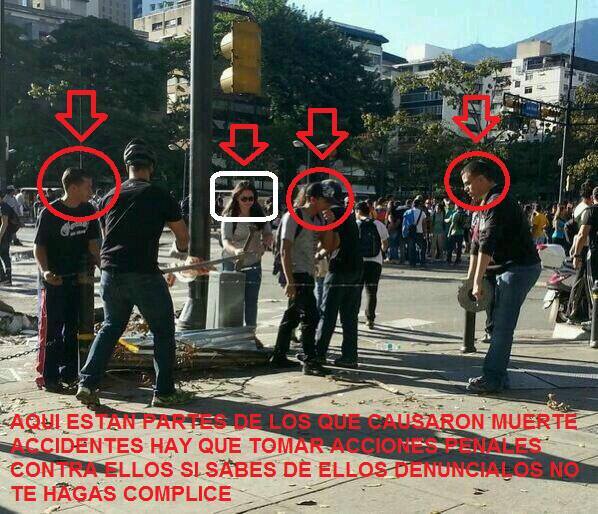 General Vivas is now resisting arrest in his home armed with a machine gun. Meanwhile, the government is investigating and aggressively pursuing suspects of other murders as well, including its own security officials. As Dario Azzellini importantly notes in a critical comment on this piece, "the government has assumed responsibility for the deaths of (#2) Juan Montoya (a leftist grassroots leader from the popular neighborhood 23 de Enero in Caracas, and (#3) Bassil Dacosta, opposition student." One officer with the state intelligence agency (SEBIN) has already been arrested in connection with these shootings, while the head of the agency has been sacked. It should be noted that SEBIN's troops were under presidential orders not to head into the streets on the day of the shooting, suggesting that its officers willfully transgressed their mandate.
Another, more mysterious death (#4) occurred on the same day: 28-year-old student and liberal opposition activist Roberto Redman was shot dead by an unidentified gunman on a motorcycle just moments after carrying away the body of Bassil Dacosta from the site of his murder in Chacao, the wealthy neighborhood of Caracas. Various sources, both those supportive and those critical of the opposition protests, argue that Redman's murder is probably connected to the two deaths that occurred earlier that day, for which the state intelligence agency is currently under investigation. At a news conference on Friday, President Maduro pledged that he would not defend anyone shooting at opposition protesters. "After I saw the photos I had them detained," he declared in reference to the SEBIN agents. "If any of them was involved in someone being wounded by a bullet, or in one of the deaths, they will pay with prison."
The government is similarly investigating the tragic death (#5) of 22-year-old beauty queen Genesis Carmona, who was fatally shot during an anti-government protest in the city of Valencia. According to opposition protesters, Carmona was hit in the head when their march was attacked by a group of violent government supporters. The government, by contrast, has declared that ballistics exams — which it claims are corroborated by eyewitness accounts — show that Carmona was shot from behind while facing the government supporters (i.e., she was the victim of a stray bullet fired by anti-government protesters). Clearly, the details in this case remain murky and contested, so we should refrain from commenting or speculating on the associations of the shooter until reliable evidence emerges.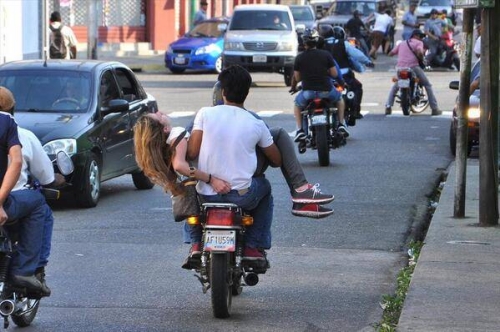 What is certain, though, is that many of the other deaths occurred around the road blocks set up by opposition protesters. Last Tuesday, (#6) a 17-year-old student, José Méndez, was struck by a car while participating in such a roadblock; the driver suspected of running him over has reportedly been arrested. A day later, (#7) public attorney Julio Eduardo González was killed in a car crash as he tried to swerve past a road block in Valencia, and (#8) an unidentified woman died of a heart attack as the ambulance rushing her to hospital was trapped by an opposition barricade in Caracas.
Days later, (#9) 37-year-old Delia Elena Lobo was killed when she rode her motorbike into another line of barbed wire put up by the opposition in Mérida. Another victim, (#10) leftist activist Arturo Alexis Martínez, brother of Socialist MP Francisco Martínez, was shot dead by an unidentified gunman while cleaning up the remains of an opposition road block. On Saturday, (#11) 23-year-old Geraldine Moreno Orozco died in hospital three days after being shot in the face with rubber bullets fired by National Guardsmen during an anti-government protest in Valencia. According to mainstream media reports, she was standing outside her home watching the anti-government protests when she was attacked by police. After being shot a first time, she was reportedly shot again.
Despite the extreme brutality of the last case, this brief overview clearly shows that the situation is not as black-and-white as CNN and the BBC would have us believe. There is plenty of video evidence of state forces engaging in unwarranted violent behavior towards peaceful protesters, which any sane person would roundly condemn. Opposition leader Henrique Capriles Radonski even claims that 18 students have been tortured in detention — an accusation President Maduro firmly denies. But at least the government has pledged to investigate these allegations of police brutality, displaying a commitment to criminal justice and police accountability that has been utterly lacking in a country like the UK, where the policeman who killed newspaper vendor Ian Tomlinson at the G8 protests in London walked free; or a country like the US, where the policeman who nearly killed Occupy Oakland protester Scott Olsen was never even charged.
Moreover, not all the victims are opposition protesters, and not all opposition protesters have been peaceful — far from it. In Bolívar state last week, at least 9 people were wounded (one critically) after right-wing militia attacked and opened fire on a peaceful march by pro-government workers. Rory Carroll just did a pathetic hit job for The Guardian decrying how "Hugo Chávez's dream world has become a nightmare of shot-down protesters, jailed oppositionists, economic meltdown and a brutal war waged against a defiant middle class," but he totally fails to mention the innocent bystanders and government supporters shot down by the opposition, the rogue officers jailed for their murderous insubordination, or the brutal war waged by the right-wing opposition against a defiant underclass.
While we should never lose sight of the dangers involved in the consolidation of power and the reproduction of state violence (or any other form of violence for that matter), it is absolutely imperative that the international left supports Venezuela's popular movements in their struggle against the anti-democratic elite. This isn't the first time the country's poor find themselves under attack and the international media completely ignores them. In 2011, a group of prominent intellectuals and filmmakers, including Noam Chomsky and John Pilger, wrote a damning letter to The Guardian lambasting the newspaper for its persistent refusal to report on Venezuela's gravest human rights violation of the past decade: "the assassination of hundreds of peasant activists since 2001 by gunmen hired by wealthy land owners." In fact, the vast majority of people killed in political violence in Venezuela since 1999 have been chavistas.
It's very easy to engage in personal attacks and vitriolic accusations on Facebook and Twitter. Finding the facts and trying to distill the truth from conflicting narratives and contradictory evidence is often a lot harder. When it comes to the ongoing wave of political violence in Venezuela, even the most basic facts are contested. In such a context, we need to strongly guard against selection bias and distortion of the available evidence. I am already awaiting the next round of personal attacks from those who seem incapable of doing so, but I will stick to my initial position: the capitalist state will always be an unreliable and violent animal, and we will always struggle against its repressive tendencies. But in the present political constellation in Venezuela, we must remember that the most violent and repressive force is still the oligarchic elite. Just imagine what these people would be capable of doing if they controlled the police and army.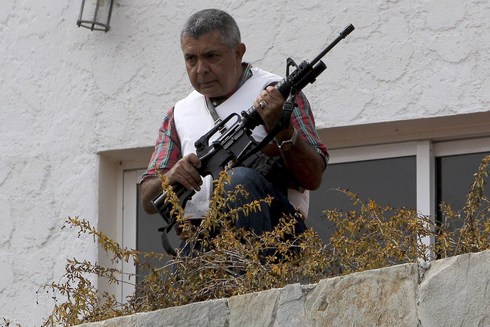 Image: Retired General Vivas, who advised "peaceful" opposition protesters to span barbed wire across narrow streets at neck height in order to fend off "hordes of motorized criminals", resists arrest at his home, armed with a machine gun. Vivas' suggestion was re-tweeted over 700 times and led to at least two deaths of innocent motorized passersby.

Source URL — https://roarmag.org/essays/who-is-responsible-for-the-violence-in-venezuela/