ROAR presents 'Utopia on the Horizon', a documentary on the Greek debt crisis and anti-austerity movement, dedicated to those who chose to struggle.
In May 2011, hundreds of thousands of Greeks swarmed into Syntagma Square in Athens to protest against the firesale of their country, their labor rights and their livelihoods to corrupt domestic elites and foreign financial interests.
In a matter of days, a protest camp was set up – organized on the principles of direct democracy, leaderless self-management and mutual aid – providing a glimpse of utopia in the midst of a devastating financial, political and social crisis. On June 28-29, during a Parliamentary vote on further austerity measures, the state finally responded with brutal force, eventually evicting the protesters from the square and crushing the radical potential of their social experiment.
A year later, Leonidas Oikonomakis and Jérôme Roos – PhD researchers at the European University Institute and co-authors of the activist blog ROARMAG.org – returned to Athens to speak to activists involved in the movement and the occupation of Syntagma Square, as well as WWII resistance hero Manolis Glezos. What follows is this dramatic portrait of a country veering on the brink of collapse; and the people who chose to struggle in order to build a new world on the ruins of the old.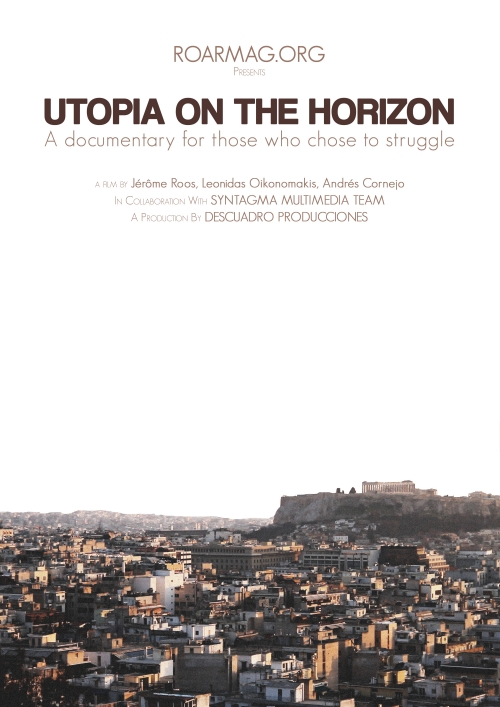 Watch now on YouTube:

English (original)
English (with subtitles)
Greek (with subtitles)
Spanish (with subtitles)
"UTOPIA ON THE HORIZON"
 Was Brought To You By:
Reflections on a Revolution
(ROARMAG.org)
 Made Possible By:
Syntagma Multimedia Team
(RealDemGr)
A Production By:
Descuadro Producciones
(DESCUADRO.com)
Cast:
Maria Kanellopoulou
Dimitris Timpilis
Niki Dimitriadi
Manolis Glezos
Directed By:
Jérôme Roos
Leonidas Oikonomakis
Produced By:
Jérôme Roos
Andrés Cornejo
Edited By:
Andrés Cornejo
Sound Design By:
Benjamin Schimpke
Mix and Additional Music:
OddOne Studio
Production Assistant:
Tamara Van Der Putten
Archive Footage By:
Syntagma Multimedia Team
Screenplay By:
Jérôme Roos
Andrés Cornejo
Leonidas Oikonomakis
Translations By:
Leonidas Oikonomakis
Yorgos Goumas
Maria Pafili
Tamara Van Der Putten
Santiago Carrión
Pedro Noel
Music By:
Alexandros Hahalis – Orphic Hymn to the Stars
(soprano: Maria Kanellopoulou)
Giuseppe Verdi – Pace Pace Mio Dio
(soprano: Maria Kanellopoulou)
Nikolas Asimos – Den Pa Na Mas Xtypan
Special Thanks To:
Christos Staikos
Manos Cizek
Geoff Arbourne
Manolis Foinikianakis
Nikolas Leventakis
Boumba Dimitrokali
Felipe Maqui
Gorka Molero
Stavris Chatzivasiliou
Tamara Van Der Putten
Ike Krijnen
Source URL — https://roarmag.org/films/utopia-on-the-horizon/